POOLE… ONE OF THE UK's FAVOURITE FISHING DESTINATIONS
By Jim Reynolds
Sea angling
A host of opportunities await Sea Angling visitors to Poole.
Various species can be caught from the shore and boats around Poole during the year.
If you're disabled, the quayside will provide easy access and a good chance of catching fish. Let us not forget the kids, they can also get into the act by crab lining off the Quay as well as catching Blennies and Wrasse.
Poole is truly for family fishing!
Shore angling
There are so many different types of fish you can catch from the many beaches around Poole throughout the year. In the harbour, Bass can be caught although many will be schoolies but the entrance to the harbour will see Lures cause the downfall of some double figure Bass.
Hefty Flounders usually start around September to January but smaller Flatties, school Bass and Eels will give sport around Rockley from April. Some great Mullet sport can be had from the Quay with fish up to 5 lbs not uncommon.
Anglers should be aware that Poole Harbour has four tides in every 12 hours, two high waters and two low waters giving a lot more movement than at other venues. As rough guides can be inaccurate, it is always best to get information from the tackle shops for up to the minute catches.
Studland and Sandbanks, a short drive from Poole town centre will see some good Smooth Hound sport from the beaches during June. Dusk is the best time to try, no matter what the tide is doing and smooth hounds to double figures will fall to peeler or hermit crab baits, the aforementioned producing best results. Sand eels are also readily available and many anglers find free lining for Bass in the harbour entrance rewarding.
Charter boat angling
Charter Boats can be booked from the contributing charter agencies. They cater for Sea Anglers going for 3 hours, 4 hours, all day, evening, wrecking, reefing, sharking and Channel Islands angling trips.
All boats are properly licensed which of course is of the utmost importance.
Most boats have toilets for the lady anglers although it is better to make sure!
Boats will cater for novices and will hire rods and tackle for a small extra fee.
Novice anglers are well looked after so listen to what the skipper says and there is no reason why you should not get a result. If you're a specimen hunter its an idea to ask at the tackle shops what is the best time to try. They will always offer friendly advice.
Boat owners
If you own a boat you'll be in good company especially at Cobb's Quay where there is a strong contingent of boat owner's who regularly head seaward geared up with an array of rods ready for action.
On top of that the marina organises boat fishing competitions notably 'Dogfish Daves' that always creates a buzz and good turn out – and an even better prize table!
Screaming reels and getting wrecked!
Anglers from all over the country converge on Poole during May for the fierce fishing Black Bream. This fish gives a good account of itself whilst drift fishing or at anchor over marks in Poole Bay with light gear.
Inshore fishing will see Bass, Mackerel, Tope, Gurnard, Blonde, Thornback, Undulates, small-eyed and spotted Rays. Also Garfish, Dogfish, Bullhuss, Scad, Wrasse, Plaice, Pout, Smooth Hounds, Congers, Bream, Pollock, etc., throughout June to September.
Some huge Plaice come from the harbour with fish of 6lbs 8oz caught during June to August falling to ragworm bait.
Shark fishing is best from the end of July to the beginning of September.
Some boats are kitted out specially for this. The Sharks which enter our waters are threshers or porbeagles, although a rare blue has been caught.
Wrecks hold plenty of Pollock with trips from March until the end of September providing good hauls. Cod, Ling and Congers will join the dominant Pollock around May onwards. Small species included Bream of 5 lbs and the odd John Dory can be caught towards September. Turbot, Brill and Bass will provide good sport for anglers taking in a Channel Island trip.
Cod can be caught from various marks off Old Harry Rocks during October until January with all fish around double figures. Big Blonde Rays and double-figure Pollock will also be caught as will congers while anglers bait their big hooks with plenty of Squid for that meaty Cod.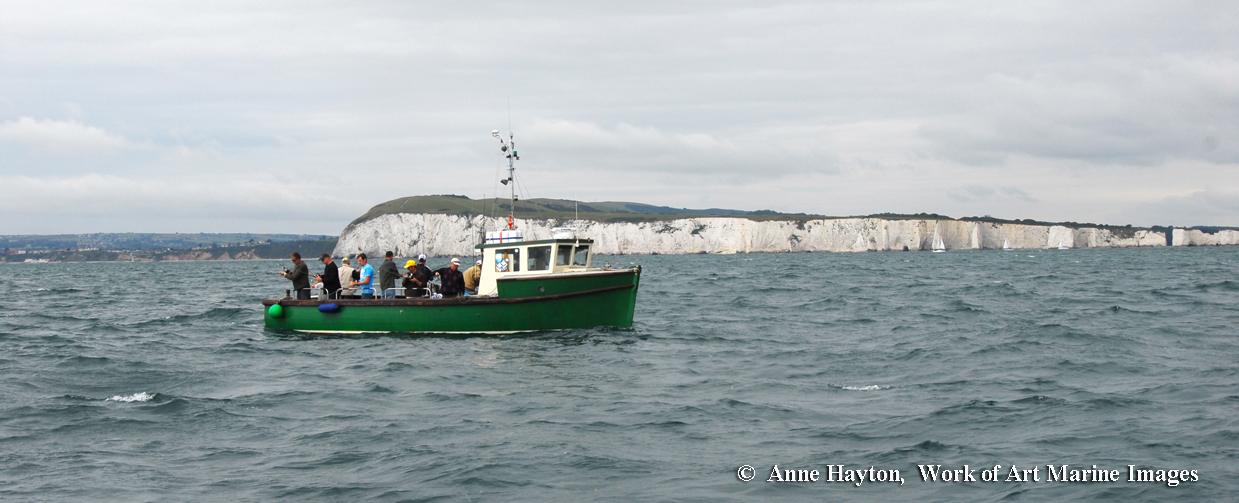 The end of September throughout most of October sees the arrival of Herring which gives anglers an alternative bait or a tasty meal. Whiting usually turn up at the end of October and many anglers enjoy catching them right through until the end of January although if you want Cod, a big bait and big hook is required.
We hope this general overview which we found on the PHC web site and lightly edited, gives you a good idea of why leisure fishing has become hugely popular for experienced and aspiring anglers – give it a try!
Tight Lines!
Some of the Sea Fish caught off the coast near Poole