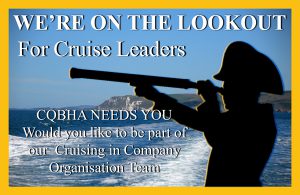 Are you a potential cruise leader for the Cobbs Quay Bertholders Association?
As you will all know cruising in company has become a key part of the opportunities that Cobbs Quay Bertholders Association (CQBHA) offers to our members.  For a very long time now Kevin Butler has devised, planned and led a wide variety of cruises on both sides of the Channel.  As you might imagine this has involved many years of commitment on Kevin's part and the time has come to take a well-earned rest.  As a result Kevin has decided to step down from the role of cruise leader after this season.  The Association owes Kevin a big vote of thanks for all his efforts over the years organising and running some great cruises and he will be hard to replace.
After a few problems Peter Hayton stepped into the 2019 slot to lead and help organise the planned cruises this year (2019) but he has other commitments after this year, so we are looking for someone – or ideally 2 or even 3 people – who are willing to help lead the cruises for the 2020 season and beyond as part of a team.  The first thing to be clear about is that the level of commitment expected will only be as much as the new cruise leaders feel able to give – no more!  We will not ask too much of you!!
As a committee we are already booking potential space for cruises at the beginning of the season to Shepard's Wharf with three more venues (see Cruising Calendar page) between this and the end of season trip to Weymouth – if there are any of the cruises you wanted to pick up on we will help you with them.
If you feel you can help the Association in this way please e mail me at chairman@cqbha.org initially and I will put you in touch with Kevin to talk over what is needed.  Lastly I would ask you not to be shy or afraid to offer your services.  We are extremely keen to continue to provide cruises in company as part of joining CQBHA and we will work with you to make sure you are confident in what to do.  Maybe even try it for one cruise next year and see how it goes?
Thank you.  I look forward to hearing from you.
Jonathan Saunders
Chair CQBHA